Name:
I'll use the name I always use. XP
Takusu

Nickname:
None

Gender:
Male

Age:
15

Eye colour:
Dark blue

Hair colour:
Black

History:
Mostly in his Persona :3

Personality:
He is very disciplined. And it is because of his uncle. His real mother died when he was born, and his father decided to end his own life shortly after... His uncle was the only person who could take care of him, which forced him to quit his job in the army for a short while until Takusu was old enough to take care of himself. His uncle was harsh, and trained him not just to become a person. But also to become strong, and known around nature. But Takusu didn't really like his uncle's way of training. So the boy got addicted to music and art in secret. He drew a lot, and he sang. He played a guitar at his friend's house. He got very good at playing a guitar, and singing songs. His favorite song turned out to become; Sympathy for the Devil by The Rolling Stones. (Just so you get a taste of how his voice is :3) Otherwise he is a nice, and caring person, who takes care of others if he knows them or not. But he takes a little bit too much care of his muscular power, and he trains daily by jogging for an hour. Also, he was kind of the average kind of kid at school. He wasn't super popular, and he got pretty good grades. Because of that, he doesn't go around with his nose in the sky...

Extra:
He has a survival knife his father gave had left him. As a pet, he has a white shepherd dog, named Heike. (Hay-ke) Also, he has black canine ears sticking up from his black ears.
Name:
Heike (Hay-ke)
Age:
2 months old
Gender:
Male
Eye Colour:
Dark brown. So his eyes will look black from a distance.
Fur Colour:
It's pure snowy white.
Markings:
None
Extra Things:
Nope
Personality:
Heike is very shy, since he haven't met many other people, or dogs in his life. The only dogs he knew was the ones from the pet store he was in for almost a month. The pup is very playful once you get to know him, and him you. And he will be happy if he isn't alone. When he is alone, he will be sad, scared and also blind by mind. He might be just plain stupid at times too. (xD Sounds like Heike...)
Family:
WIP
History:
His mother was sick when she gave birth to him, and she died a few days later. Heike kept warm in his mother's fur for the next few days. And his siblings did the same. Almost a week went by with very little food, when someone found the pups in the alleyway. A garbage man, who came to empty some of the cans, noticed them and sold them in different pet stores. He was placed in a cage with some other dogs, and he was left out as the only white one in there. A month went by, and Heike kept watching humans walk by in the window. Heike was so curious about the creatures walking on two legs... He had been touched by them once... But he doesn't remember how it was... One day, a human came to his cage, and pointed at him while saying something. As the human who seemed to live in that place came over, Heike saw that the person who pointed at him was a lot smaller. She was giggling a lot, and as the biggest human picked him up, he squirmed for a moment, before he was placed in the smaller human's warm embrace. Soon he found himself on the lap of the human, in a moving box. He was a little scared at first, but thee human pet him to make him calm down. And she succeeded. Heike fell asleep, and when he woke up again, he was being carried towards a large house. When he was placed on the floor, Heike had a hard time to learn how to walk properly on   his fluffy paws. But soon, he gained enough balance to stand. He was running back and forth, getting used to the place. A long time later, when he was outside behind the house in the yard a month later. He was playing with his new, and best friend yet. She threw a round red thing, which Heike ran to get, and bring back to her. Suddenly the front door was slammed shut, and Heike could hear a yelling. Also, he noticed his friend getting nervous. The backyard door was opened, and a male stepped out. He was a lot much bigger than his friend, and he had a lot more hair around his face as well. He went down to Heike's playmate, and started yelling at her. Heike growled, thinking she was in danger. So he started barking like a pup would, and the male looked down at him. The white pup took a step back, as he approached him, and he whimpered when the human reached down grabbing his neck. He yelped helplessly in pain, as he was carried towards the fence. He was lobbed over it, and all he heard while he flew through the air was a scream. Heike landed roughly on the sidewalk on the other side. He scraped himself up really badly, and he limped slightly towards the fence...
Ref: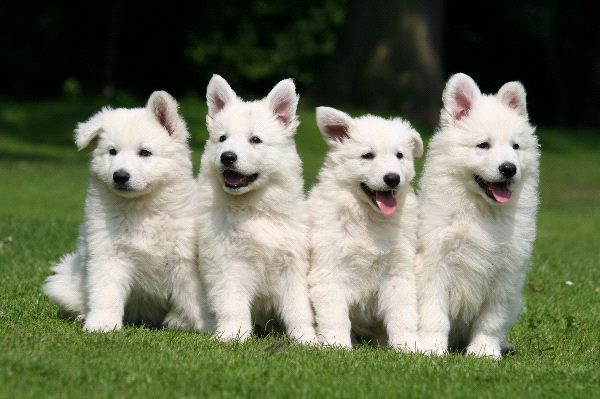 Last edited by Accirrah on Sun Jul 28, 2013 6:09 pm; edited 2 times in total