The Child of the Wilderness
Seth
The Basics:
Name:
Seth
Nicknames: 
S, Se
Age:
9 Months
Gender:
Male
Rank:
Pup
Breed:
Red Wolf
Appearance:
Coat Length:
4 inches
Pelt Colour:
Dark Brown
Eye Colour:
Dark Green
Markings and Designs:
Green paws that blend in with the forest floor, with green rings down his tail, green spots around his eyes forming a sort of mask, and green ear tips 
Scars and Scratches:
Various scratches from living in the wild
Extra Appendages: 
Dark Brown Wings with Dark Green tips
Wolf Build:
Medium.
Persona:
Personality:
Seth is impatient and rash most of the time, but he knows how to remain silent and still in order to hide himself. He reacts aggressively to anything that he doesn't understand or is uncomfortable doing, so watch out. He is loyal as can be, and he has a sharp tongue sometimes, which can get him in trouble. He hates females, but wont attack female packmates, just avoid them as much as he can. He enjpys being in nature, and when he focuses on something, it becomes his one and only focus. He is irked easily, especially when startled or when something disturbs his concentration. He can move quickly through any type of forest terrain.
Wolf Likes:
Squirrels, hares, trees, the ground
Wolf Dislikes: F
emales, birds, humans, thing younger than him
Wolf Strengths:
He attacks extra viciously if his opponent is female or younger than him.
Wolf Weaknesses:
He's rash and impatient at times, and he isn't used to large groups of other wolves
Wolf Habits:
playing with his food, trapping and caging small animals as pets
Wolf Talents:
He can climb trees rather easily, and he can blend in with the surrounding forest.
Relations:
Parents: Real-
Unknown
Adopted-
Ame
Siblings:
if any, unknown
Pups:
no
Best Bud:
Ame
Friends:
Ame
Enemies:
Humans, The Sapphire Skies Pack
Crush:
NU
Mate:
I will bite you if you mention me and mate in the same sentence
Extras:
Extra:
His tail ends in a point, like it was slicked down, which he does. But sometimes he doesn't slick it down.
Extra:
His tail is almost as long as his body
Reference: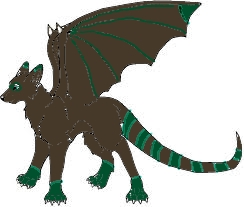 Themesong: 
No external links
History:
Seth was abandoned almost immediately after birth. He was left on the edge on his parents' pack's territory for the bears. Luckily for him, an old wolf found him first, and took him to a female wolf who had just given birth to a dead litter. The she wolf gave him milk until he was old enough to eat meat, and then he went to live with the old wolf, whose name was Ame. Ame taught Seth the ways of the forest, and a little bit of how to fight. One day he and Ame had a fight, and Seth ran away. He got lost, and was found by a human, who mistook him for a stray dog, and took him home to his 3 little girls. Eventually Seth escaped, with his sanity mostly intact, and he made his way here.
Last edited by Seth on Wed Jun 19, 2013 4:23 pm; edited 3 times in total