The Basics:
Name:
Robin
Nicknames:
Rob, Baby Bird
Age:
7 Months
Gender:
Male
Rank:
Pup
Wanted Rank:
Sentinel
Breed:
Gray Wolf
Appearance:
Coat Length:
3 inches
Pelt Colour:
Black
Eye Colour:
White
Markings and Designs:
Around his eyes a dark dark red color forms what looks like a domino mask. On the backs of his legs are small squares of dark dark red as well, and half his tail is dark dark red, with spikes of black biting into the red. He has a red stomach and chest. Groups of light red feathers are behind each paw, making it look like he has small flames behind his paws.  
Scars and Scratches:
None
Extra Appendages:
Wings that are black on top, then fade to red, and then the red fades to an even darker red the farther it gets away from the black part of the wing.
Wolf Build:
Small, but not necessarily skinny, as he has plenty of muscle.
Persona:
Personality:
Robin is a typically quiet wolf, who prefers to watch and observe than to get out and say things. He will voice things he believes in strongly. He's smart, and hates it when things don't go according to plan. he can solve most things rather easily, and often times just sits there deep in thought. He rarely forgives or forgets. A fire burns hidden inside him, but it rarely comes out. He has a large patience span, and a short temper. He can fight both verbally and physically. He's a natural leader, but doesn't believe it since he has such little self-confidence. He rarely rushes into things, carefully thinking of the pros and cons before doing anything. He hardly ever sleeps.
Wolf Likes:
When things go according to plan, silence, shadows
Wolf Dislikes:
When things don't go according to plan, things he can't figure out, loud noises, light  
Wolf Strengths:
Knows how to fight, excellent planner
Wolf Weaknesses:
He won't kill another wolf whatsoever, and has trust issues
Wolf Habits:
Staring at someone without saying anything
Wolf Talents:
He can tell how long something's been dead by touching and looking at it, and he can blend into the shadows so it looks like he's not there
Relations:
Parents:
Jake-Deceased-Biological
Janet-Deceased-Biological
Bruce-Alive-Adopted
Siblings:
Richard-Alive-Adopted
Jason-Alive-Adopted
Pups:
No
Best Bud:
He doesn't have one
Friends:
None
Enemies:
None yet....
Crush:
No one
Mate:
No one
Extras:
Extra:
He idolizes his older brothers
Extra:
He doesn't like being around others much, specifically females
Reference: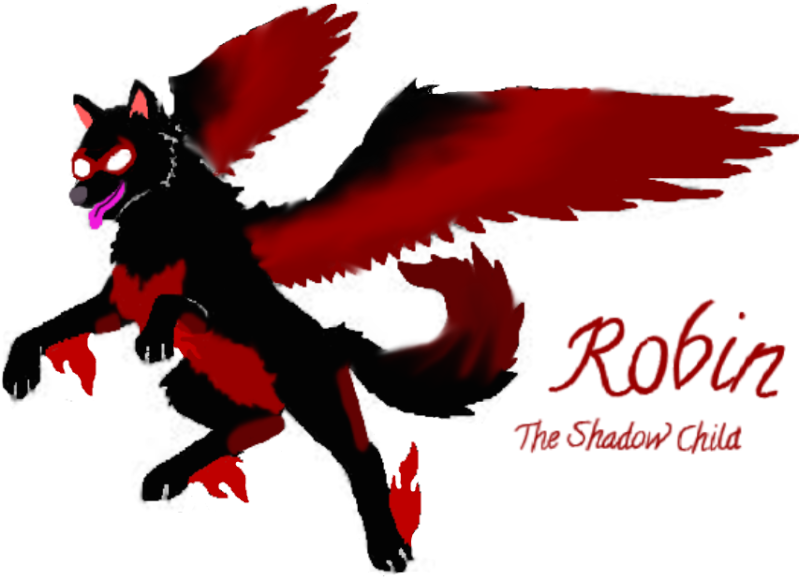 Themesong:
History:
ok, before I start this, I based my wolf's ago off how old he needed to be in the human world, about 13-14 years old. So when reading this bio, think of it as you would if he were human and not a seven month old wolf, K? I'm telling you to think like this because I'm going to be writing it like he was a human and not a olf for the most part, so just...........try to follow me, k?
Robin was around 6 years old when he first saw him, the silent protector of the forest. He was completely black, and never showed any emotion. A fleeting legend, someone whispered of only on the darkest of days and the scariest of nights. No one knew his name, but everyone knew him. If you tried to harm the forest, you had him to deal with. And so Robin's obsession began. He stalked the wolf, learning as much as he could about him, no matter what the cost to get it. His parents, the Alphas of a pack, hardly cared about him, so they never noticed when he went missing for days on end. One night, another wolf appeared with the black wolf. This wolf was also black, with bright blue eyes and bat wings like the other bwolf, the only difference being a bird shaped mark on its chest. So the Stalking began again, this time for another wolf. By the time he was almost 8, another wolf had joined the small group, this one with startling green eyes, a red head, tan bird wings, and black fur, just like the first. The small clan was growing.
When Robin turned 10, his mother suddenly struck ill and died. Robin became even more distant, and spent more and more of his time watching the three wolves. He thought they hadn't noticed, but when he was confronted one day by the one with the blue bird on his chest, the illusion was shattered. The wolf took him back to meet the others for some reason, along the way he told Robin that his name was Richad, thus a friendship was born. When he was introduced to the others, he found out thee first one's name was Bruce, and the most recent's addition was Jason. Richard took him home after that, but they frequently talked together, and Robin had the feeling he was being watched every time he went home. A few months later, his father was brutally murdered by another pack's Alpha. Robin found his father in a pool of his own blood, and when he thought that he was going to lose his mind, Bruce was there. Like some sort of unspoken signal, Richard and Jason took Robin back to their home, Bruce following a little later.
 For weeks Robin just watched from a corner as the three worked, trained, and lived.
Bruce was the emotionless one most of the time, but he was incredibly protective. He was silent and stoic, never letting his emotions out, but Robin knew that it wasn't good for him, and occasionally he saw Bruce crying when he thought no one else was looking. Richard was the optimist, always looking on the bright side of things, always smiling, making jokes and comments on everyday life. He was serious when he had to be, but joked around a lot. He was willing to risk everything for his family. Jason was always angry for some reason. He cared about his family but didn't like to let it show. Jason sore a lot, and wasn't gentle about pretty much anything, but he could be. They had named themselves The BatClan, and they knew every secret to walking through the shadows, seeing without being seen, walking, running, flying, silently. They knew how to fight, and their glares could murder millions if looks could kill. They were intimidating and fascinating at the same time. Slowly Robin came out of his shell, and began training with the three. When he turned 12, they deemed him ready to start going out on "patrol" with them. One night, Jason went missing. None of them could find him, no matter what they did, where they looked. Months later, Jason returned. He was different though. Less caring, more violent, even angrier than before. Fights broke out often between the four, about anything and everything. Eventually, Robin started noticing Jason was becoming so violent he was losing himself, but no one did anything about it. Finally, he confronted Bruce about it, only ended in an enormous argument about hat was best for Jason. Bruce thought it was best if Jason worked things out on his own and wouldn't do anything to help Jason, while Robin believed that they should be doing something, ANYTHINGG, to show Jason that they were there for him, and he wasn't alone. Robin ran out in a rage, angry and confused about why his 'father' didn't want to help his own son. He hid when Richard came looking for him, and from there he ran away from the forest and headed to another one. So here Robin is, only a few weeks later, in the very same forest Cadence and Lucifer have claimed as their own.
Last edited by Robin on Wed Jun 19, 2013 2:29 pm; edited 2 times in total